The Flemish Method Part I
Apr 13, 2020
The Confinement Experiment
---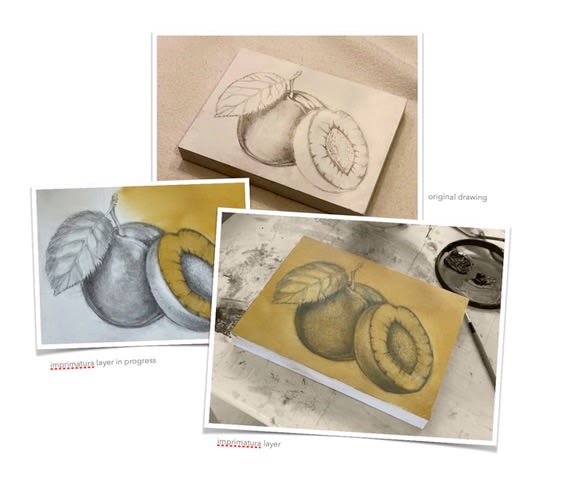 ---

Have you ever seen one of those old, Flemish paintings that is SO shiny it looks like it was printed on super glossy paper and covered in layers and layers of varnish? Well, if you have, it was most likely painted in the #FlemishMethod. This method originated in Flanders as early as the 15th century. It's a very lengthy and intricate process of oil painting - and the results are usually well worth it.

Like most of you, I am on lockdown. Aside from working on my usual mixed media pieces, I feel like experimenting with this old technique - just to change things up a bit! It's been ages since I've made simple drawings and oil paintings. So, now that mother nature has hit a great big "reset" button, I feel it's time for me to go "old school."

Venturing into this new/old technique, I thought I would keep it simple to start. So, as you can see above, I did a basic sketch of plums on a wooden panel. To prep the panel, I added a combination of gesso and modelling paste in a thin coat. I used regular sketching pencils and sealed the drawing with spray fixative. Next, I began layer one of the Flemish Method …

The Flemish technique begins with a very thin layer of oil paint heavily diluted with turpentine and damar varnish. (Obviously, the addition of varnish in this early stage contributes to the ultimate shine of the final piece.) The layer is typically made with a mix of a warm color, a cool color, and white. In my case, I used Yellow Ochre (warm), Payne's Grey with a touch of Ivory Black (cool), and Titanium White. The idea behind this "imprimatura" layer is to provide light and warmth that will ultimately peak through in the final piece. At this time, shading is not meant to be a priority. That will come in further layers. Above, you will also see my completed imprimatura layer - which, like all subsequent layers - needs to dry completely before moving on to the next step. This is the reason the process can be so protracted.

So, now I bide my time waiting for the #imprimatura to dry. And, I look forward to the next step: adding the Burnt Umber layer. Please keep your eyes peeled for future posts about this #ConfinementExperiment. In the mean time, I will continue with my #MixedMediaArtwork ... particularly the "Confinement" pieces. There are a few I think you may like.
Please be safe and well,